During the last five years Plantpack has been frequently tested and improved at several stages to become the quality product it is today. We are proud to present this unique product that not only protects your goods against mildew but also absorbs gasses at the same time.
Plantpack is mainly made from the following plants:
Herba Houttuyniae
Soapberry Seed
Cunninghamia Lanceolata
Plantpack does not contain any additives. The absorption lasts for a period of at least two years. As said, besides keeping your products mildew free Plantpack also absorbs the gasses benzene and toluene.
These gasses can come free from certain products during the period of transport. Both benzene and toluene gasses are extremely dangerous and could do harm to persons inspecting or unloading the container. Not to mention what these gasses could do to the health of the consumers.
It is very expensive and will cost a lot of time to put a container aside and have it aired out. By using Plantpack you can save time and money.
Plantpack has two products in their assortment: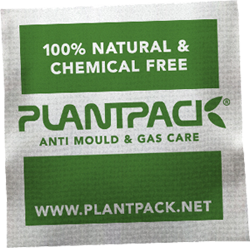 1. Bag (PB25):
We supply a small bag (5cm x 5cm) which can be easily added during production of your product. For example Plantpack can be added to the shoe box of your footwear, polybag of your mattresses, container of your medicines, etc.
For each product a certain quantity is needed. We can help you to sort this out.
The price of each Bag PB25 is only USD 0,03 Ex works China.
2. Tube (PT68):
For absorbing the gasses Benzene and Toluene, and additional moist absorption inside the container we have Plantpack tubes in our assortment.
Each Tube PT68 can be ordered against USD 7,95 Ex works China.
On container base the following quantities of tubes are needed:
20′ container : 6 tubes
40′ container : 8 tubes
40′ HQ container : 10 tubes
45′ container : 10 tubes